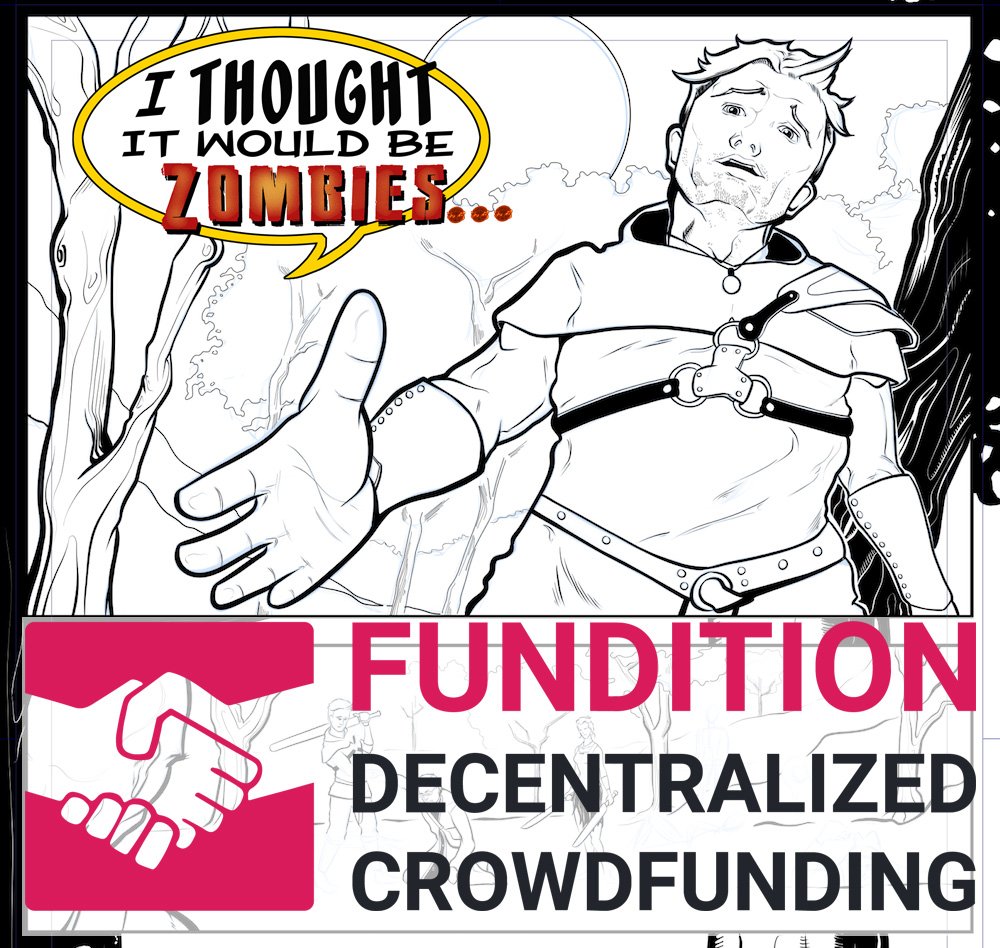 ---
Approximately 24 hours ago… the world as we know it was changed irrevocably. No, the Earth wasn't struck by a catastrophic magical solar flare as in the world of "I Thought It Would Be Zombies…" but it was struck by the launch of a Fundition campaign to help produce the comic book that will tell that amazing tale!
Already I'm humbled by the supportive comments, shares, upvotes, and donations that have been received on this first day. There is a very long way to go… but I'll see it through until the end and hope you all will be there with me! A big thanks goes out to @la-fumettista, the first person to drop a Steem donation that takes her right into the "B-Class" solar flare rewards tier! She will absolutely be receiving one of the very first printed copies of issue #1… and I'll be sure to throw in some surprises as well. Your early vote of confidence means the world @la-fumettista, thank you! @preparedwombat also responded with a very generous donation, and the upvotes have begun to roll in from a number of supporters. Everyone will have ample time to work their way up the reward tier rankings as I anticipate this campaign to run for as long as 6-8 months as "I Thought It Would Be Zombies…" prepares to launch! No matter how small, cumulative votes over a long period of time can make a big difference, and are appreciated greatly.
That being said, I'd like to take these first few updates to help flesh out some of the underlying principles of the "I Thought It Would Be Zombies…" Fundition Campaign, and bring more clarity to supporters and fans as to what to expect moving forward.
As you may be aware, Fundition behaves very differently from traditional crowdfunding services that are more widely known. As funds are accrued, they are continuously being transferred and made available to the project founder; meaning it is not an "all or nothing" approach. I can assure you, I fully intend to see this project through, and have done similar in the past by self publishing previous comic books. No matter how long it takes, supporters can expect to have their rewards fulfilled. Due to the long estimated timeline for this campaign to reach completion, funds received will be held in the form of Steem Power until such time as they are in need of withdrawal to pay for expenses detailed in the campaign description, such as printing costs, convention bookings, artist pay, etc. Retaining accrued support as Steem Power will help to better fund the project, and allow for more rewarding interactions with fans and supporters who make great comments, discussions, and content of their own promoting "I Thought It Would Be Zombies…"
Supporters can keep an eye on their own contributions at the official Fundition Backers page located at https://fundition.io/#!/@bryan-imhoff/fzjpdacz9/backers
If you see your support amount changing over time, it is due to fluctuations in the price of Steem. This is natural, and while your estimated support can decrease, it is my belief that the opposite is a much more likely scenario over the long course of the campaign! Even a small amount of support early on could transform into a much larger total by the end of the funding campaign. So don't be disheartened if your voting power is "weak," there is no such thing… and every little show of support is a massive boost to this project.
On a second housekeeping note, I'd like to announce that support generated by service & platform votes will not be eligible for direct campaign rewards. What does that mean in English? Well, depending on the source of my Fundition Campaign update posts, a variety of votes can come from services and projects such as SteemPress, dTube, dLive, Busy, Fundition itself, or a whole host more! While this support can be integral to funding issue #1, there's really not a single face behind those votes to send some cool comics and swag to!
What will happen instead, is that any reward tiers accrued by services such as these will be donated to comic related charitable causes such as the Comic Book Legal Defense Fund and the Hero Initiative, in the names of the site or service, to help spread the word about "I Thought It Would Be Zombies…" and all the cool apps and platforms of the Steem blockchain!
---
For full information on the campaign you can visit https://fundition.io/#!/@bryan-imhoff/fzjpdacz9 and also find updates and further content on the official site www.ithoughtitwouldbezombies.com.
Thank you again for an amazingly encouraging day one. I hope I didn't bog you down in too much mumbo jumbo in this update. I promise they'll get a lot more fun soon, as you all get to peek behind the curtain as a comic book gets made! I will gladly answer any questions and love to read good comments, so don't be shy!
-Bryan "the Imp" Imhoff