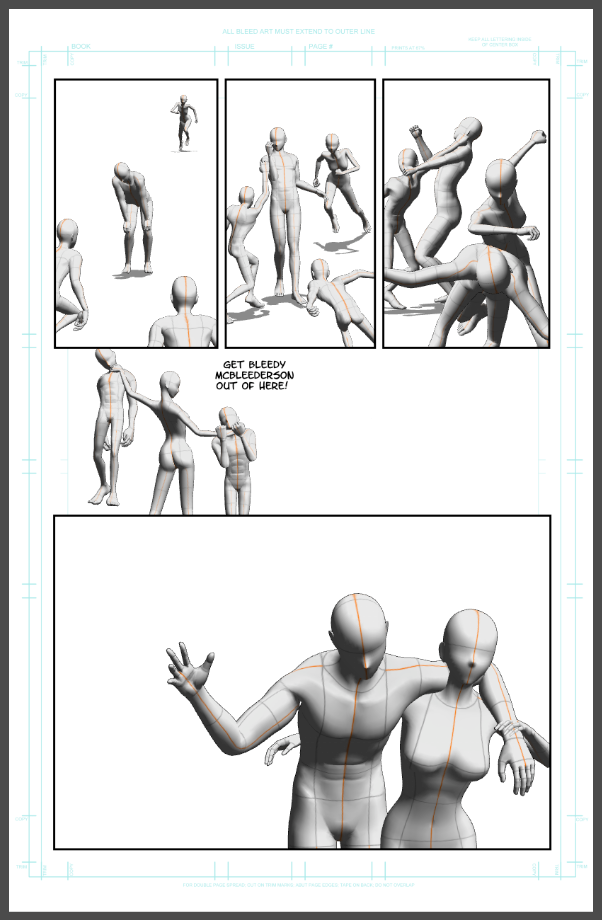 ---
In my last update post I previewed some layouts I was working on using the 3D modeling abilities of the Clip Studio Paint software. And well, I've been up to a bit more of the same lately. I've still got a bit more planning to do on the above page, but as you may be able to tell, it shows a bit of the heroic crew of "I Thought It Would Be Zombies…" getting down to business for the first time and whuppin' some ass.
However, rather than bore you with more of the same layout work… and since I don't want to blatantly give away the entire story ahead of time, I'll regale you with some equally boring business. The business of… well, business I guess!
If you have zero idea what I'm babbling about, the short summary is that I am currently working on the creation of a comic book entitled "I Thought It Would Be Zombies…" while concurrently running a crowdfunding initiative through Fundition(https://fundition.io) to ensure its publication!
I've been fortunate that the Fundition Fund Program has been adding support to this project. Not all crowdfunding through Fundition receives that honor and boost, as they review entries with an auditing process. In reading some of the notes of the "I Thought It Would Be Zombies…" audit, one mentioned a desire to see more detail on cost breakdowns and plans. I take the transparency of this initiative very seriously and would love to share more. It could also be a fun look behind the curtains at the more mundane side of comic creation. Waitasec, all the sides are mundane, scratch that.
---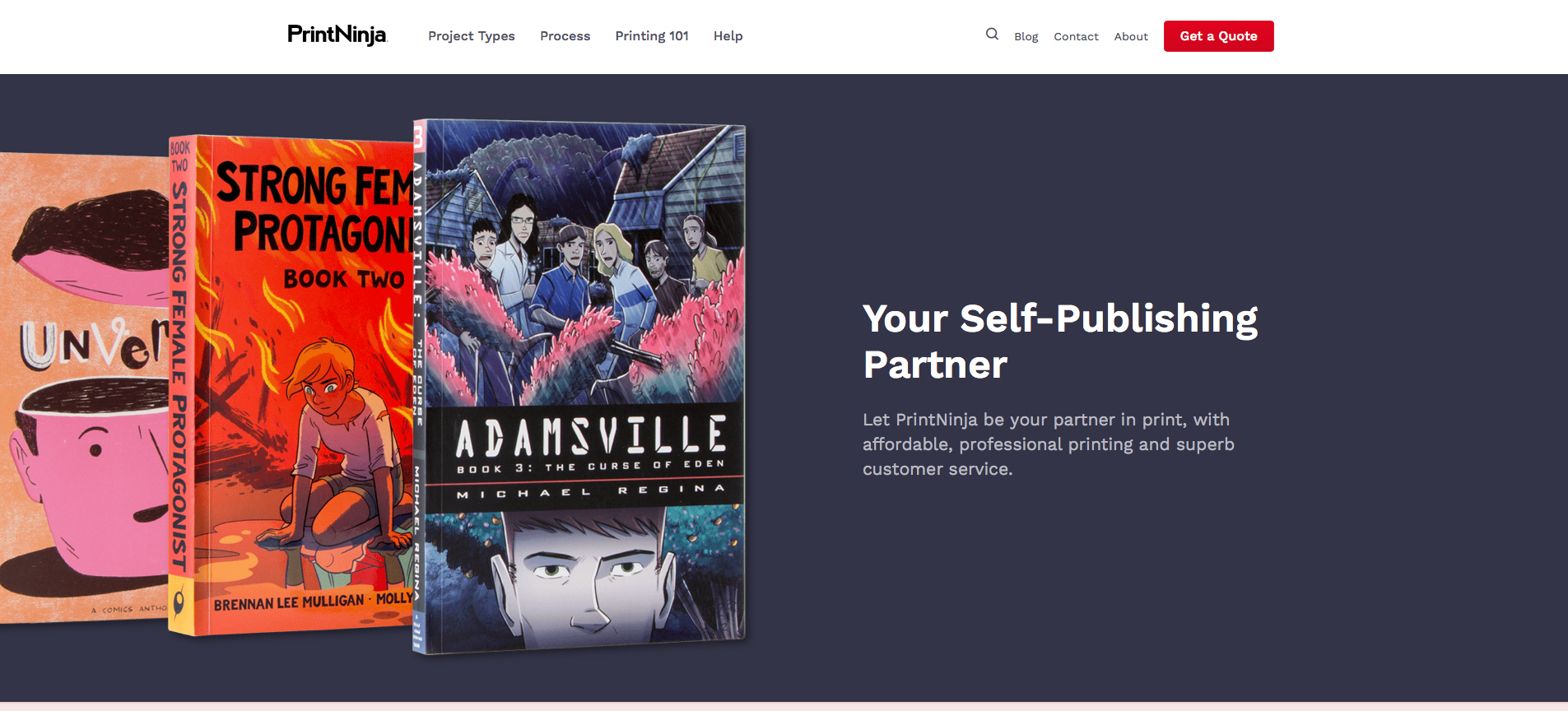 ---
Enter the PrintNinja. This is the printing service I've had my eye on for some time. Nothing is set in stone, I'm still doing my research and looking at options, but they are an early frontrunner for the printing fulfillment.
---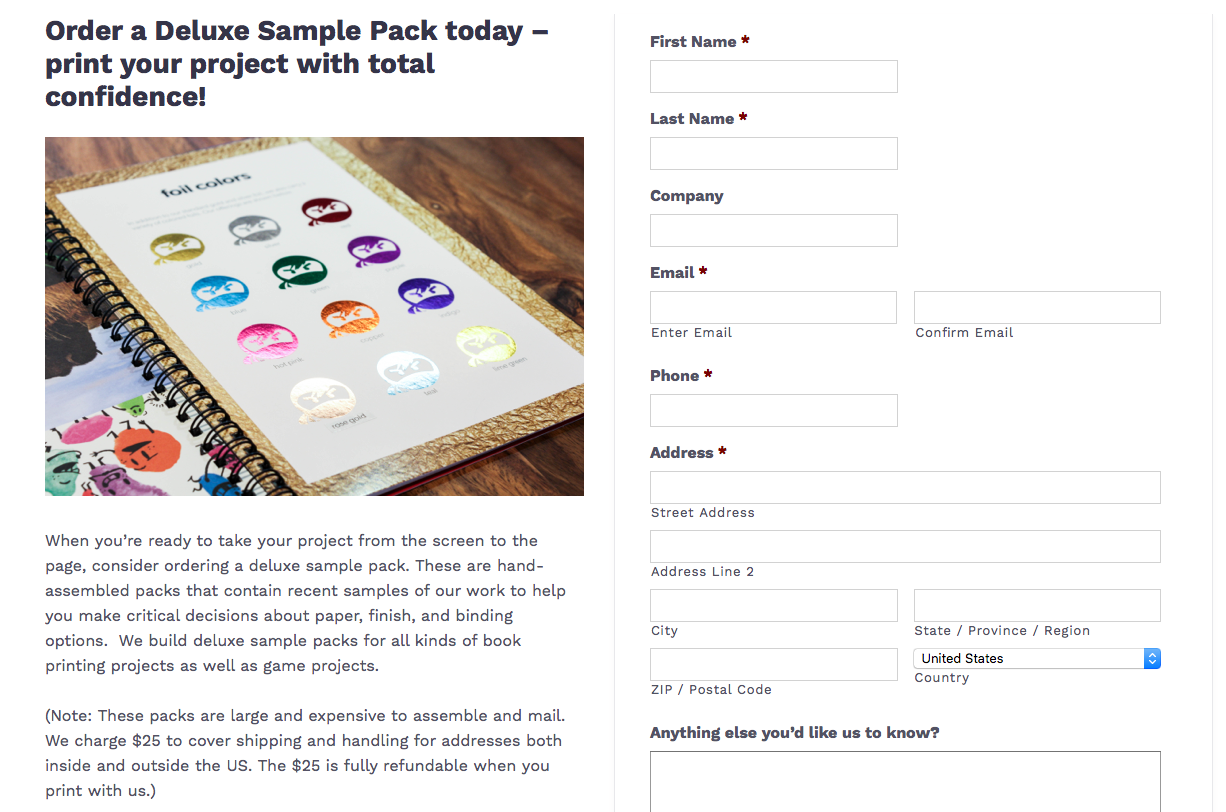 ---
I've seen some of their work before, but soon I'll be ordering a full sample package to more fully explore some options and price breakdowns; while simultaneously doing the same with some other printers as well.
"I Thought It Would Be Zombies…" #1 is planned as a standard 32 page full color comic book. As with any form of offset printing, the cost per copy drops drastically the more you print. Volume is key to a good unit cost. As such my initial funding goal allows for the printing of at least 2,000 copies. If support seems very strong I could always opt for more.
---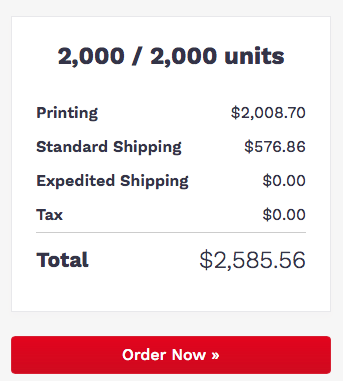 ---
Here's a rough estimate of such a print run through PrintNinja. This works out to approximately $1.30 per copy, a level that gives direct sales online and at conventions a fighting chance of being profitable. With a little more volume driving that price down, submitting to distributors even becomes a possibility. The only real comic distribution game in town in the United States is Diamond Comic Distributors, which typically needs to buy the comics from the publisher at no more than 40% of cover price on the high end. So a comic priced at $3.99 may very well only net the publisher $1.20-$1.60 (30%-40%) per copy sold, and this hasn't taken into account any advertising, shipping and administrative expenses.
Storing piles of unsold comics may be a pain, but I think it's the smart thing to do if you're in it for the long haul, as with each successive issue released, a new spike in sales for the prior issues can be attained, and a workable profit margin is a necessity. In the interim, you can make some nifty furniture out of all the unsold cases of your artwork!
---
Those printing costs alone are the largest chunk of my initial $5000 Fundition funding goal. I've tried to estimate a cushion for other expenses that might be incurred along the way, with launching on digital platforms as well, securing an ISBN number if desired, etc. as well as not forgetting the shipping and fulfillment costs I'll incur sending out earned rewards to project supporters and backers!
Any funds left over of that initial $5000 will go into booking space and preparing a table/booth to launch at one or more comic conventions in 2019. This is also the stage where some real magic can happen as I work to promote "I Thought It Would Be Zombies…", Steem, and Funditioncollectively!
---
I hope this little glimpse at some of the business thoughts is interesting and helps build some trust in the campaign. Believe it or not I actually kind of like this aspect. The thought of looking through printing samples excites me! I could certainly see myself partnering with a publisher in the future, but fully self publishing has a great appeal as well, and I think Funditionand Steem can help me see it through.
---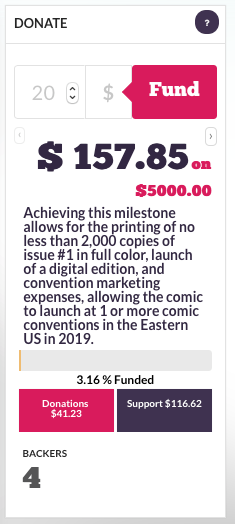 ---
The Fundition Campaign has continued to make forward progress, even in the face of a temporary decline in the value of Steem. That's amazing! We're now sitting at more than 3% of the target thanks to some amazingly generous support from individuals like @preparedwombat, @cryplectibles, @drwatson, @la-fumettista, @kommienezuspadt, and many more who are working their way up the reward tiers simply by consistently upvoting these Fundition campaign update posts!
Thank you everyone! I'll do a more full breakdown of new reward tier recipients in the next post. With luck, a surge in Steem value will greatly increase everyone's contribution totals! I wanna send out a ton of comics when this is all done!
-Bryan "the Imp" Imhoff
---
For full information on the campaign you can visit the Official Fundition Page and also find updates and further content on the official site www.ithoughtitwouldbezombies.com. At the Fundition page, supporters can have a look at their own level of support on a regular basis.
How does Fundition work? It couldn't be more simple… if you're upvoting this post, you're already participating in the funding campaign and may earn some rewards. Period.