As you may have noticed… I chose to number this particular update to the progress of "I Thought It Would Be Zombies…" as update #7.5. Honestly, I don't have a ton to report since a week ago, so I consider it incremental at best! You have my sincere apologies and a promise that I'll have a lot more to show in the days to come.
That being said, I hate to have the current Fundition campaign sitting idle, so here's a post! For those curious about Fundition, let the canned response begin!
"I Thought It Would Be Zombies…" is an independent comic book created and in production by yours truly, Bryan "the Imp" Imhoff. It follows a ragtag band of survivors through the aftermath of a "magical apocalypse," both humorous and horrific; beautiful and terrifying.
Fundition is the first dedicated crowdfunding platform built on the Steem blockchain. Supporters can back projects with direct contributions of cryptocurrency, or by simply "liking" the posted content! On the Steem blockchain, your votes have value, and Fundition is designed to tally this value over the course of an extended campaign.
"I Thought It Would Be Zombies…" is utilizing the Fundition platform as its source of funding, so friends and fans can earn rewards simply by upvoting update posts like this one over the course of the months to come!
As those familiar with the Steem blockchain know, posts have a period of 7 days during which they are active for voting and eligible to receive rewards. Fundition campaigns are continually refreshed and kept live by new postings, that thereby give more "targets" for supporters to vote on and accrue backer rewards of their own! It's just like traditional crowdfunding models, only you don't even need to spend any money if you don't want to! So welcome to update #7.5.
---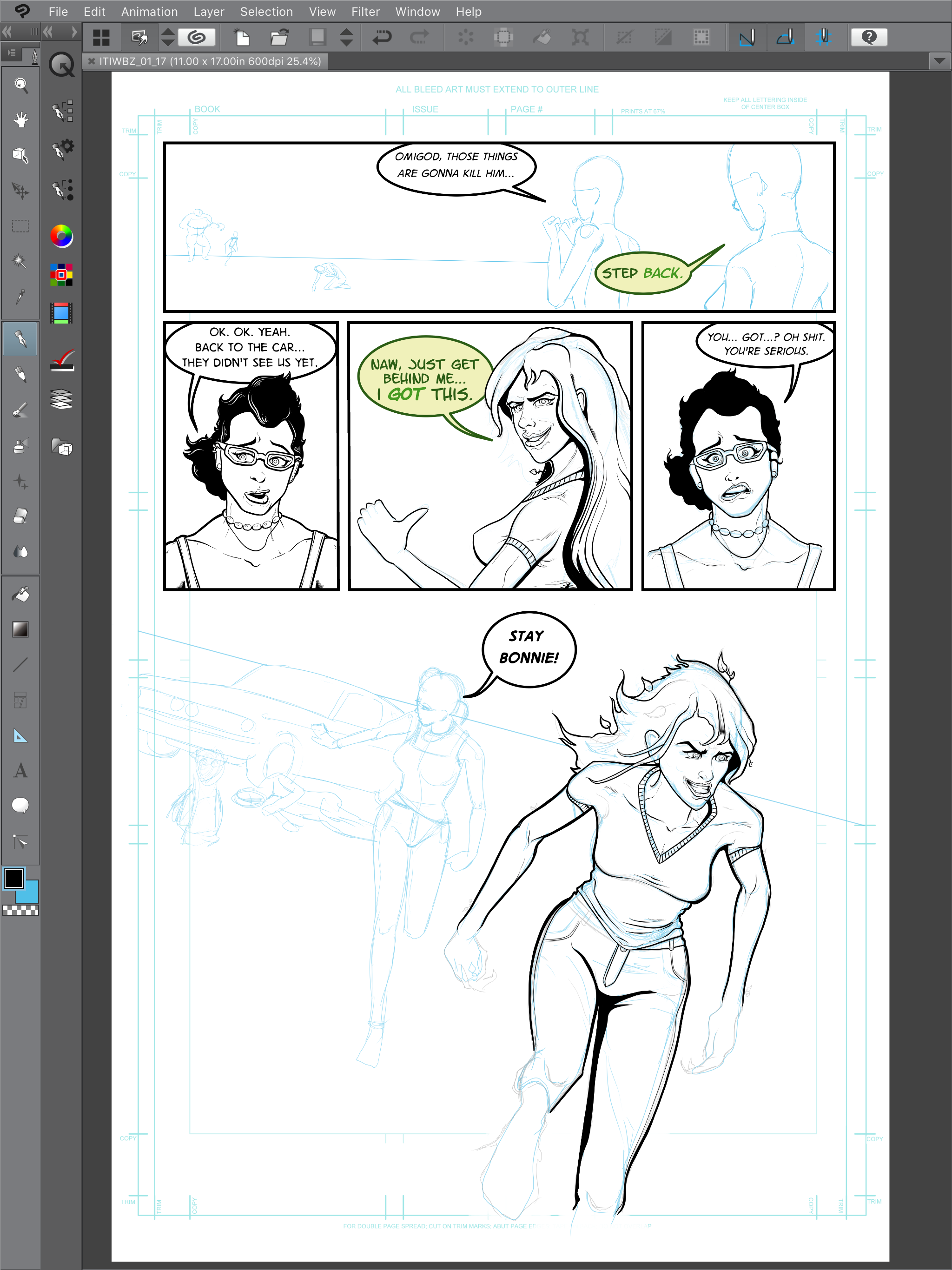 ---
Here's a screenshot of my continued work on page #17 of "I Thought It Would Be Zombies…" It's a couple more hours developed, and at this point I'm about to hit the 10 hour mark of work put into this page. By this time next week I hope to have the pencils and inks of this page done and begin experimenting with colors. Everything is done in the Clip Studio Paintsoftware on an iPad Pro.
---
This prior week was exhausting, as I had the opportunity to attend the Baltimore Comic Convention, thus the dearth of comic creation activity. It was a great event, and I always come away with my creative juices flowing and new sources of inspiration. However, it takes a bit to put that into practice… as in order to take the time off I had to work a long stretch of uninterrupted days at my day job, capped by the exhausting activity of a convention. But today was a day of rest, relaxation, and getting back to the drafting board.
---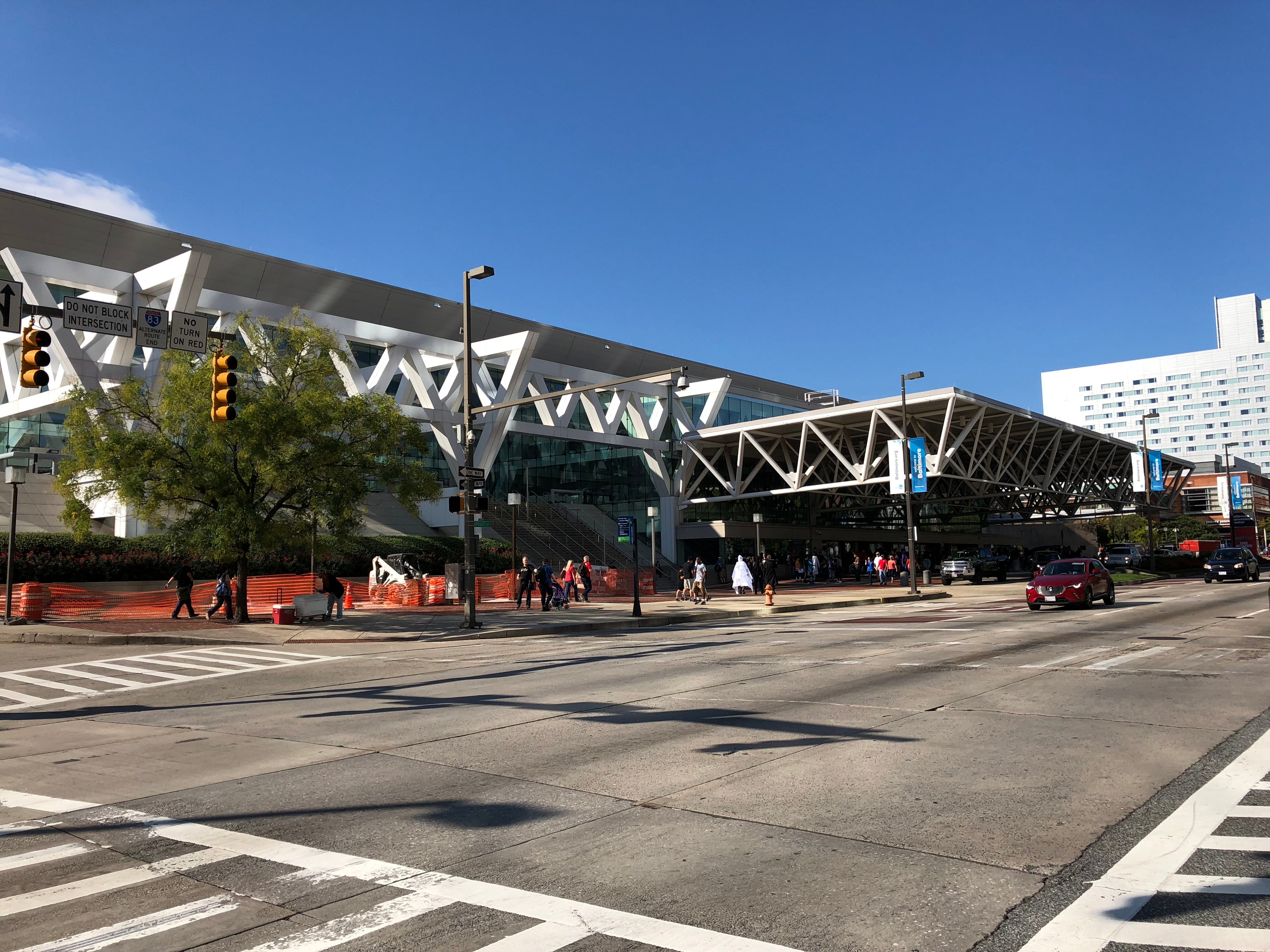 arriving at the convention center on a beautiful Saturday morning
---
I wore my Steemit shirt, handed out a few business cards, got to say hello to @blewitt who was manning his Conquest Comics booth at the show, was inspired, intimidated, and driven by the sight of a ton of great art and artists, and brought way too much of that art home with me at expense to my wallet and lower back!
I plan on attending Baltimore Comic Convention next year as an exhibitor, with "I Thought It Would Be Zombies…" #1 finished and for sale. As the goal for the comic's Fundition campaign states; securing funding will allow for a launch at one or more comic conventions in the eastern US in 2019, and Baltimore would be one of them. It's a great show, very artist and comic heavy, whereas others are often more skewed toward pop culture in general. This month I also attended the Keystone Comic Convention in Philadelphia. Keystone was a first year show and hopefully will develop and grow nicely, but Baltimore of course blew it away in terms of attendance and creative talent on hand.
It's my goal to promote Steem at these events as well, hopefully with on-site signups and information. If the campaign stretch goals are unlocked I'll even be publishing a special variant cover that can only be purchased using Steem, to help lure fans and collectors into this wonderful system! I know @blewitt has contemplated promotional events for Steem at comic conventions as well, and I can see some great opportunities for us to collaborate on our efforts in 2019.
---
Speaking of stretch goals, the Fundition campaign is going wonderfully, thanks to folks like you reading this. "I Thought It Would Be Zombies…" is solidly over 5% of its first funding goal, which is amazing to me at this early stage.
---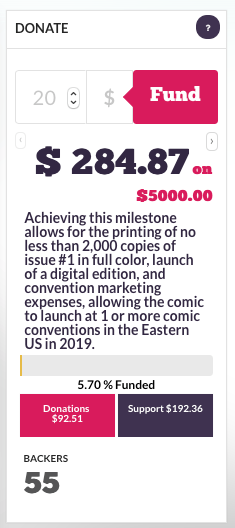 ---
Individuals can always check their own status of accrued voting & donation contributions by visiting the official Fundition Campaign Page, but here's a quick look at some of the top contributors.
Special thanks this week go out to @lextenebris who came out of nowhere with a big Steem donation, as well as @preparedwombat and @cryplectibles who consistently send more Steem my way week after week. Seriously guys, you rock. @kommienezuspadt continues to hit the campaign hard with big votes, and wonderful gents like @katharsisdrill and @blewitt are piling on the votes getting ever closer to a rewards tier. And of course tons of support is coming directly from the Fundition Fundprogram, which votes on projects and bolsters their success across the platform.
---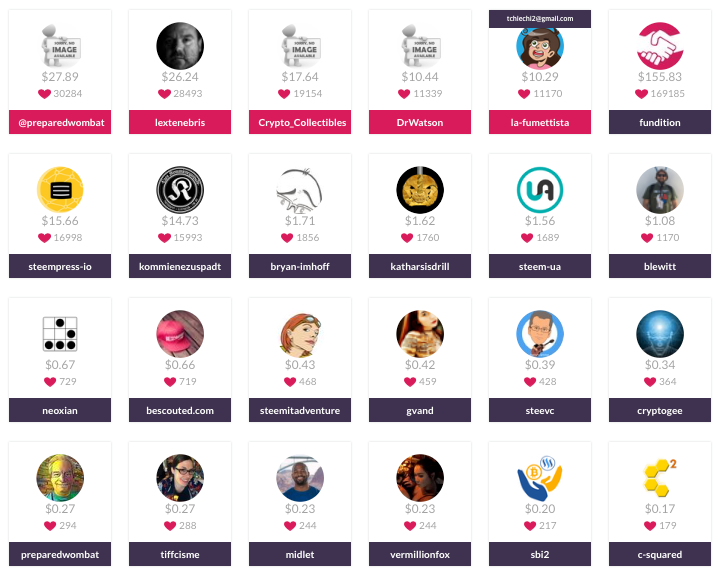 ---
To date, 6 copies of the printed comic are already "pre-sold" through these rewards tiers, when it is still months away from completion and publication. That may sound like a small amount, but in the world of independent comics… it's amazing, and all thanks to you folks on Steem. I see that number climbing exponentially into the new year!
Thanks for taking the time to read this interim update, and thanks for all your support! Be on the lookout for more art previews very soon! And if you have any questions about the project, comic conventions, or comic creation in general, ask away! I'd love to answer whatever I can to bring more value to this otherwise quiet progress report.
-Bryan "the Imp" Imhoff
---