What can I say… yes it's still the same page I've been previewing for a while now! I'm actually 17 hours of work into page 17 here… ahh the delightful symbolism of that!
Hopefully it's not too boring for you!
---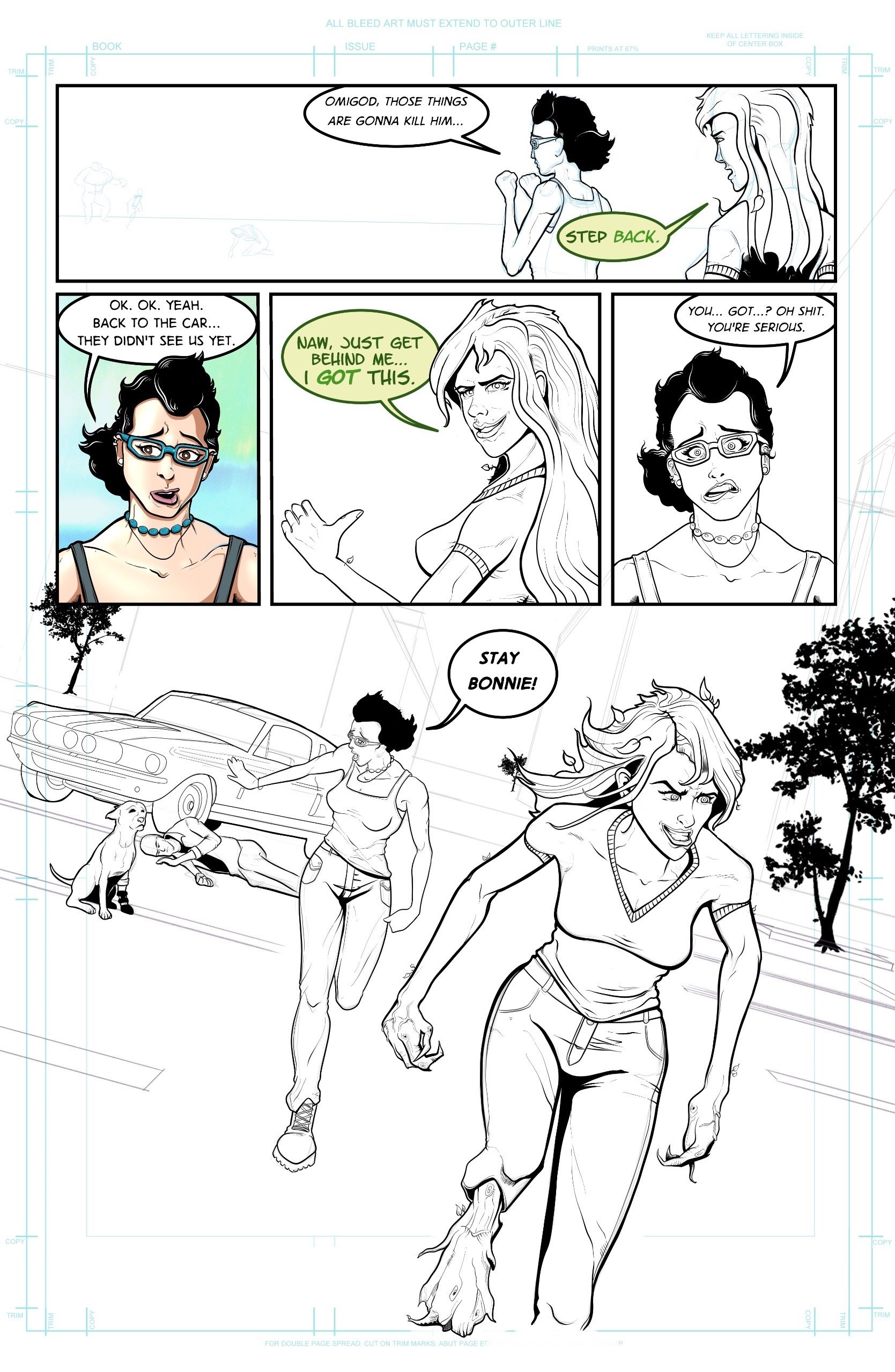 ---
I've been experimenting and learning a lot with every element of this page and a couple other pages in this story sequence that I'm working on completing. Everything from finding & creating custom brushes and color palettes, to practicing with perspective grids. (those parking spaces are looking pretty sweet aren't they!?!) As such, the page continues to be a hodgepodge of various levels of completion and practice… but I actually think it makes for a pretty fun look "behind the curtain" at the comic creation process. Or at least, my comic creation process.
I have confidence that my output will speed up as I settle into the tools and style I'm working to develop and define right now, but in general I'd say I'm right on target. I've always assumed each page will end up with somewhere between 20 and 30 hours of work to be completely finished, and this looks to be trending right into that sweet spot.
While the somewhat glacial pace of progress could be discouraging, I'm actually encouraged because I do actually feel like this is the best and most polished work I've ever created, and I feel strongly that I'll only continue to hit that same level or even better. Onward and upward!
Fundition and Beyond
---
This is a somewhat abbreviated update for the official "I Thought It Would Be Zombies…" Fundition Campaign." The last update finished its 7 day active window earlier today… (actually that was yesterday now… it's 3:30 AM, crap!)
and I just hate to have the campaign idle for any period of time, which has led to this post! A more full update will come later in the week wherein I'll update everyone's reward status and give some special shoutouts and thanks.
Suffice to say, the campaign is coming along spectacularly. Even with the price of Steem trending lower lately, the campaign is still at 6.65% of the basic funding level, which is enormous for this early stage. I imagine this fundraising to run for a number of months yet, and for the value of Steemto rise during that time. I believe there will be ample opportunity and ability to publish and promote "I Thought It Would Be Zombies…" in 2019 thanks to Fundition and all of you.
---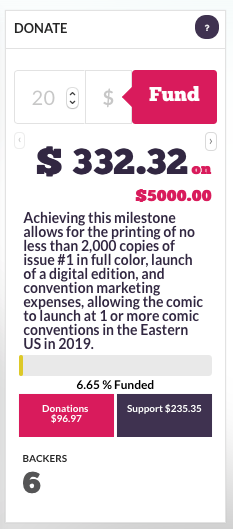 ---
Speaking of promotion, earlier this evening @blewitt posted a quick recap and photo of our meet up at the recent Baltimore Comic Convention. We were already rocking our Steemit shirts there, and in the year to come I know we both have intentions of promoting Steem further at these events. I attended a couple conventions in the past months getting a feel for how and where I may want to exhibit professionally next year. Baltimore is one of my frontrunners for booking a table or booth next year.
---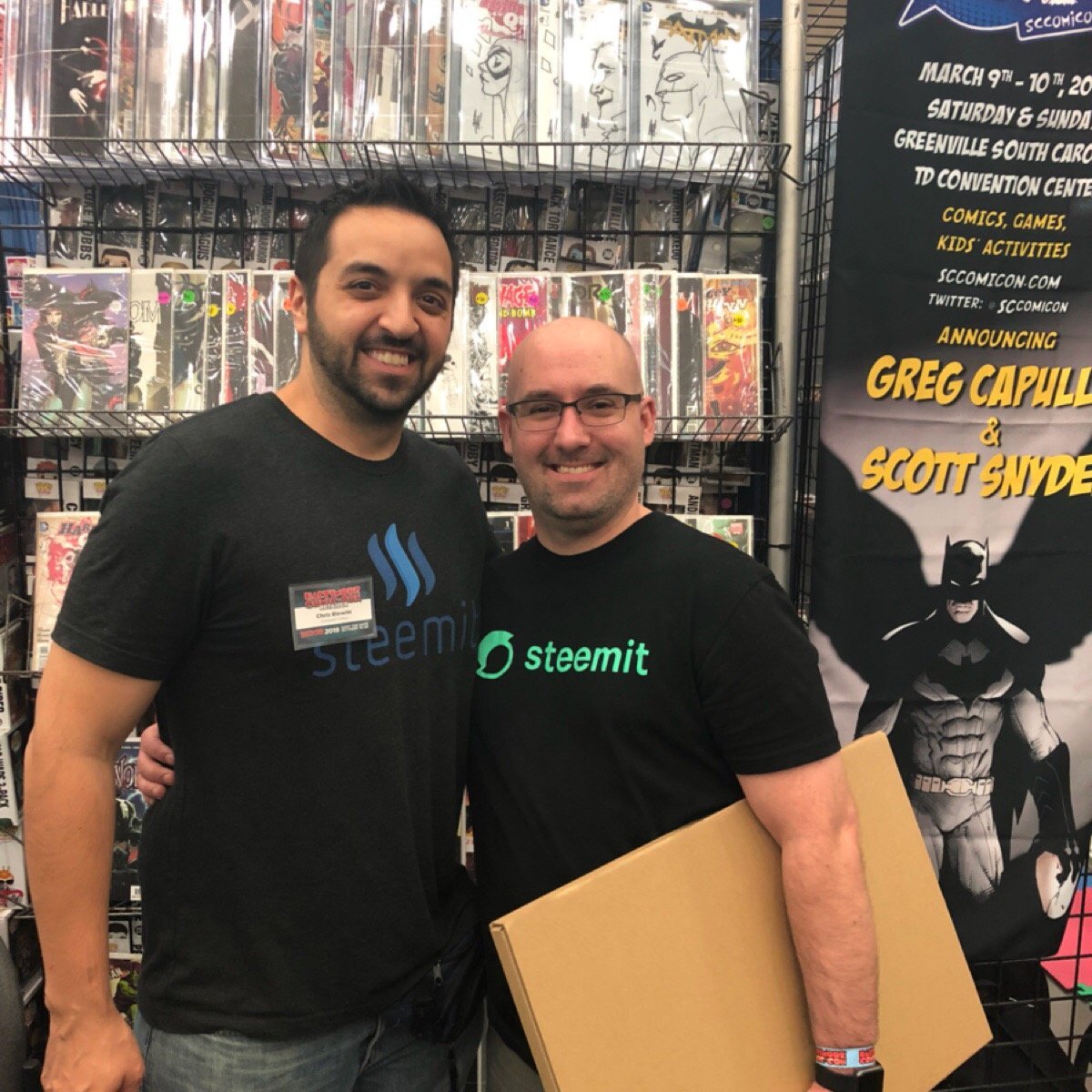 ---
It's always been in my plans to promote Steem and Fundition in tandem with "I Thought It Would Be Zombies…" even as far as offering a limited variant cover edition that can only be purchased with Steem. That'll be made possible by hitting a couple stretch goals in the funding!
I envision being able to sign interested fans up right at a convention table, and with the recent changes to the Steem blockchain in Hard Fork 20, that becomes a very plausible reality. I'm fortunate enough to have enough Steem Power that I can at least occasionally claim account creation tokenswith my unused resource credits. I've begun doing this as often as possible to build up a "war chest" of instant signups I can personally deploy myself at live events or online!
Steeminvite.com is a great tool for this and is what I've been using, so I just wanted to give it a plug here! I'm very pleased with the possibility of on boarding new users myself, and will be doing so as "I Thought It Would Be Zombies…" nears completion and launches in 2019!
Thanks for reading. I'll be back later this week with more updates, previews, and news!
-Bryan "the Imp" Imhoff