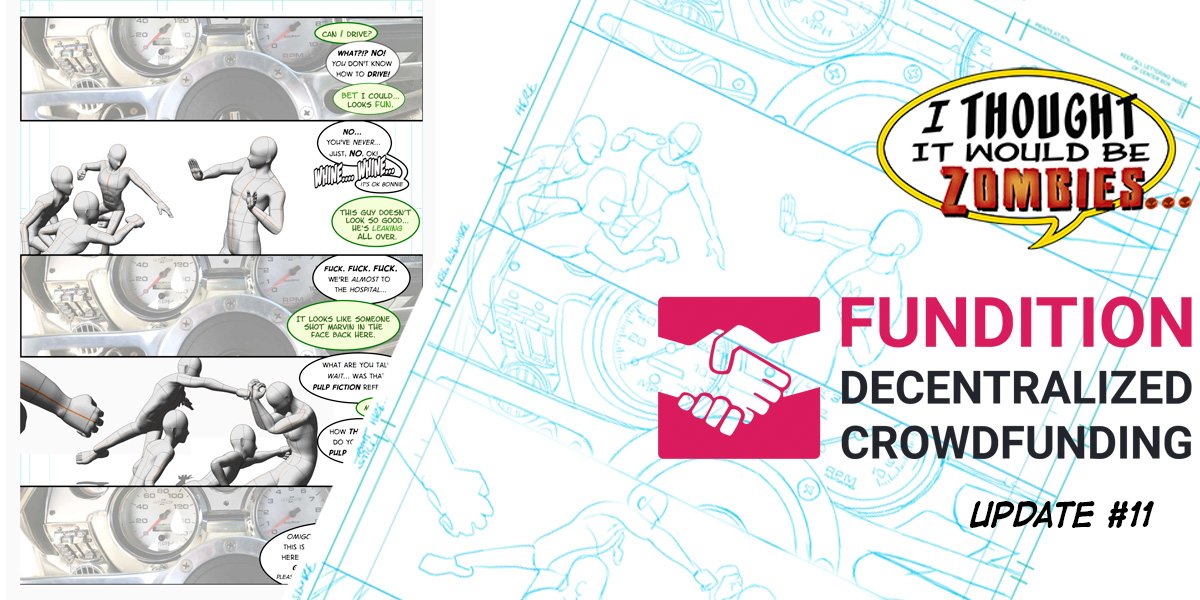 ---
Hello again fellow Steemians, Funditians, comic aficionados and "I Thought It Would Be Zombies…" fans! I hope you're all doing well and thank you again for joining me on my journey to create a comic book of epic apocalyptic frivolity! Hmm, I kinda like that phrase… epic apocalyptic frivolity… "tag line" material? What do you think?
---
There's an old bit of wisdom in the world of comic book creation, that you want to treat each issue as though it's somebody's first, because it most assuredly is! I follow the same philosophy in these updates. However, it can be a bit difficult to catch new readers up on all the intricacies of Steem and Fundition in new and exciting ways each post… so instead I resort to copy pasting a little wall of intro text. Laziness for the win! I don't call my company Spotty Production because of an unflinching work ethic after all… So read on, or skip ahead if you've heard this joke before!
"I Thought It Would Be Zombies…" is an independent comic book created and in production by yours truly, Bryan "the Imp" Imhoff. It follows a ragtag band of survivors through the aftermath of a "magical apocalypse," both humorous and horrific; beautiful and terrifying.

Fundition is the first dedicated crowdfunding platform built on the Steem blockchain. Supporters can back projects with direct contributions of cryptocurrency, or by simply "liking" the posted content! On the Steem blockchain, your votes have value, and Fundition is designed to tally this value over the course of an extended campaign.

"I Thought It Would Be Zombies…" is utilizing the Fundition platform as its source of funding, so friends and fans can earn rewards simply by upvoting update posts like this one over the course of the months to come!
---
Now that the formalities are out of the way, let's jump into what all has happened recently and what lies ahead!
The Past!
---
Over the past week I continued to experiment with color and have been spending much larger amounts of time than ever watching and studying online tutorials on the subject! In between these full Fundition update posts, I'll be sharing some quick visuals and previews through SteepShot as I did recently. I'm also chipping away at tasks on other comic pages, such as building out this underlying "blue line" image as I prepare to pencil another page in the current sequence. In this stage I'm basically roughing out the images overtop of the 3D layout I've built in Clip Studio, altering as I see fit and preparing to fully redraw the page by hand. I'm gonna be spending a lot of time drawing a dashboard in my future…
---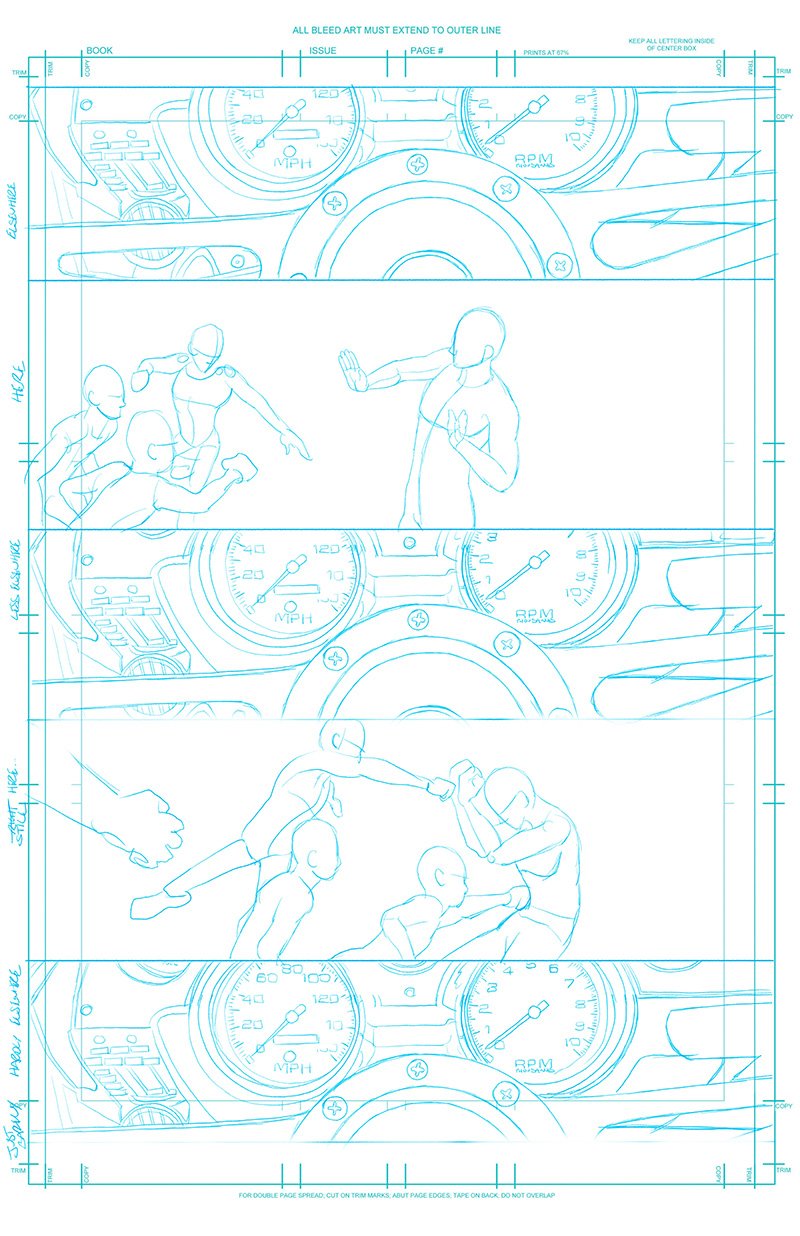 ---
Speaking of chipping away at tasks… I've also been working on gradual improvements to the official website at www.ithoughtitwouldbezombies.com. There's a lot of work to do to make it prettier and more functional, but please feel free to check it out anytime in this "beta" state.
A couple additions of note this week were adding all prior Fundition update posts directly to the site, and most importantly, linking them all to the Steem blockchain utilizing the incredible new features of the SteemPressplugin! Now you can actually vote and comment on articles on www.ithoughtitwouldbezombies.com directly on the site using your Steem account.
Secondly, I created a little graphical link featuring my latest comic related SteepShot post… sort of a "poor man's widget," but it gets the job done! I've also added some progress bars and graphs so that you can follow along and see just how much time I'm putting in on the comic, how much progress has been made, and cheer me on or yell at me accordingly!
---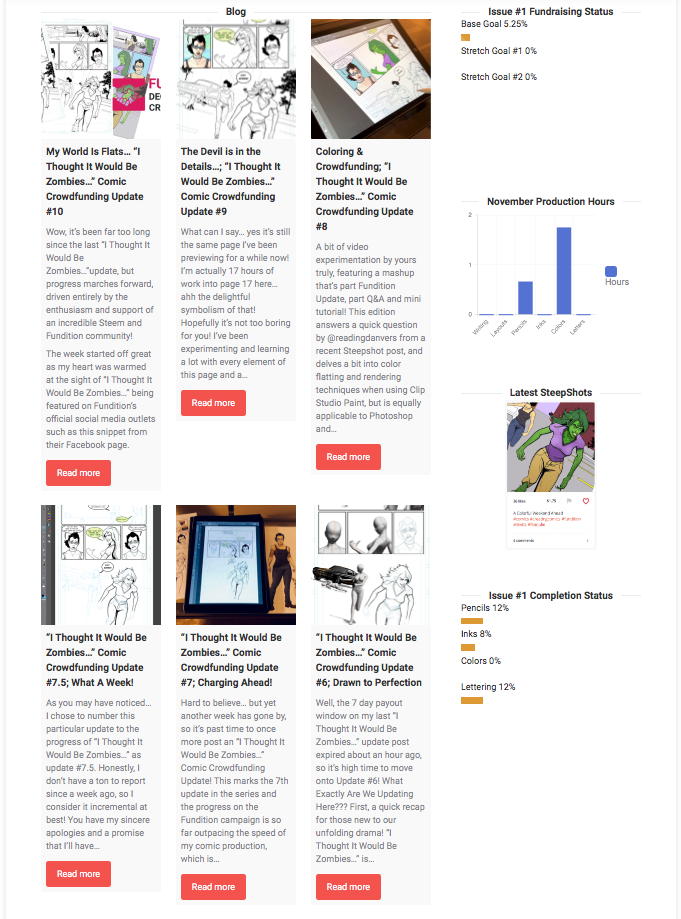 ---
I've also added a supporter list section to keep a visible tally of donors. The Fundition site is still experiencing some growing pains which lead to some donors not being displayed correctly, but I am keeping tabs myself as well! If you're a donor and feel any of the information at this page is in error, please feel free to reach out. And remember, you don't need to actually send direct donations to support "I Thought It Would Be Zombies…" your votes on updates like this help as well, and sharing this project with others is always appreciated of course!
The Future!
(y'know… pre apocalypse that is…)
---
I am excited about a few happenings in the near future. First off, I actually took a few extra days off of my day job this week… just for the hell of it! All in all, I'll be off for 5 days in a row, which is the longest stretch of time off I've had in several years, and the first where I don't have any travel or visiting family planned. So, while there will be some extra relaxation, there will also be extra time for work on "I Thought It Would Be Zombies…" yay!Here's to a productive week ahead!
Secondly, some of you may have seen how I ordered the soon to be released 3rd generation iPad Pro. Almost all of the production work of the comic is done on my current 1st generation model, so I'm quite excited for the boost in speed and capabilities this could bring. You'll most likely see me squealing in joy when my new baby arrives in a week or two!
I also have a small stockpile of new reference and research books related to the comic on their way, and of course we'll have plenty of great coverage of Steemfest, the 3rd annual Steem convention taking place this year in Krakow, Poland; to look forward to in the coming days. All in all, November is looking good!
---
"I Thought It Would Be Zombies…" Comic Crowdfunding Update #12should be a big one, coming on the other side of that glorious vacation time… so look out for it in about a week! But you'll certainly see me around with some other posts and random snapshots before then. In the meantime, help bring "I Thought It Would Be Zombies…" closer to reality by upvoting this post or donating directly at Fundition. and while you're there, scope out some other great projects and charities deserving of support. There are more and more being added every day!
Have a great week everyone, and don't forget to engage in a bit of epic apocalyptic frivolity!
-Bryan "the Imp" Imhoff
---