"I Thought It Would Be Zombies…" Comic Crowdfunding Update #12; Stuck in First Gear…
Well here we are again… you and I. Well, at least I hope you're here, 'cause if you're not that means I'm talking to myself. Oh, who am I kidding. It wouldn't be the first time that's happened. It wouldn't even be the first time today… but I digress.
If you haven't before been privy to my famed Fundition Update posts, then allow me to slap you with this pre-prepared blockquote of information to catch you up on the basics. Be you a rookie or apocalypse survival veteran… I'll see you on the other side of it!
---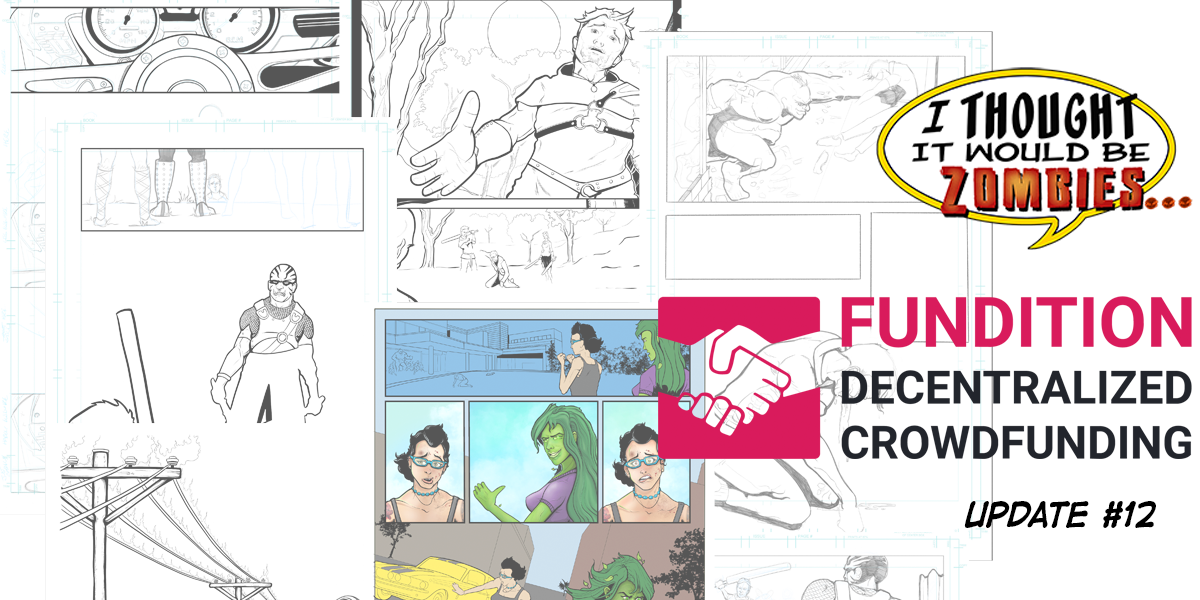 ---
"I Thought It Would Be Zombies…" is an independent comic book created and in production by yours truly, Bryan "the Imp" Imhoff. It follows a ragtag band of survivors through the aftermath of a "magical apocalypse," both humorous and horrific; beautiful and terrifying.
Fundition is the first dedicated crowdfunding platform built on the Steem blockchain. Supporters can back projects with direct contributions of cryptocurrency, or by simply "liking" the posted content! On the Steem blockchain, your votes have value, and Fundition is designed to tally this value over the course of an extended campaign.
"I Thought It Would Be Zombies…" is utilizing the Fundition platform as its source of funding, so friends and fans can earn rewards simply by upvoting update posts like this one over the course of the months to come!
---
Did you make it? Good. Any injuries? I'd sure hope not… Although I once pulled a hamstring while eating a chicken nugget… so I wouldn't judge.
Work in Progress…
---
It's been a good three weeks since my last Fundition Update and for that I apologize! But in truth November has not turned into a productive month for me. I've been in a bit of a creative & physical slump but feel I'm breaking out of it a bit now and happy to keep moving forward. Just how much forward? Well, that's what this post is about! Let me update you on the bits of progress that are slowly piling up to create a completed comic book.
On the official site under construction, ithoughtitwouldbezombies.com I do my best to keep a few fun graphs and charts updated so that you can follow along with the making of the comic as I go! These include things like tracking my productive hours so you can see where my time went, how much time I actually put in, and an estimated percent of completion for various stages of the issue.
This month so far has been quite weak, as I've only managed about 12 hours of work on the book, but I'll be looking to finish strong in the few remaining days before November's end. In my defense, I'm only tracking time that goes into the actual pages. Quite a few hours have been directed toward experiments, learning, and side projects. Even so, I need to shift my focus more toward completing finished product if I'm going to release on time!
---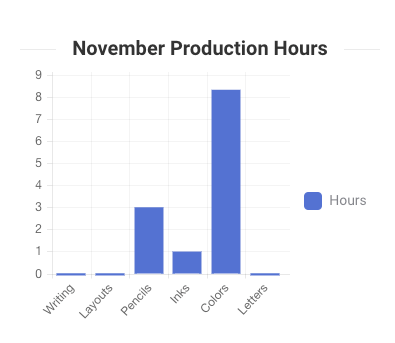 ---
And while not showing a blistering pace… all the progress bars are inching their way toward an eventual finish.
---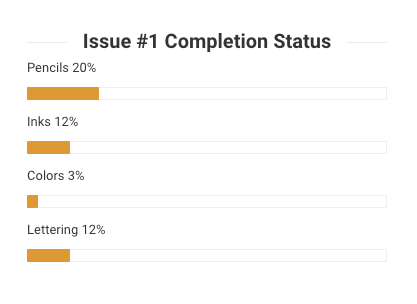 ---
I threw together this little "pile of pages" graphic which actually features about 7 different pages in progress, piled together to strategically give you little glimpses and previews of "I Thought It Would Be Zombies…" as it takes shape. Hopefully you see at least something in there that makes you want to get your hands on a copy of issue #1!
---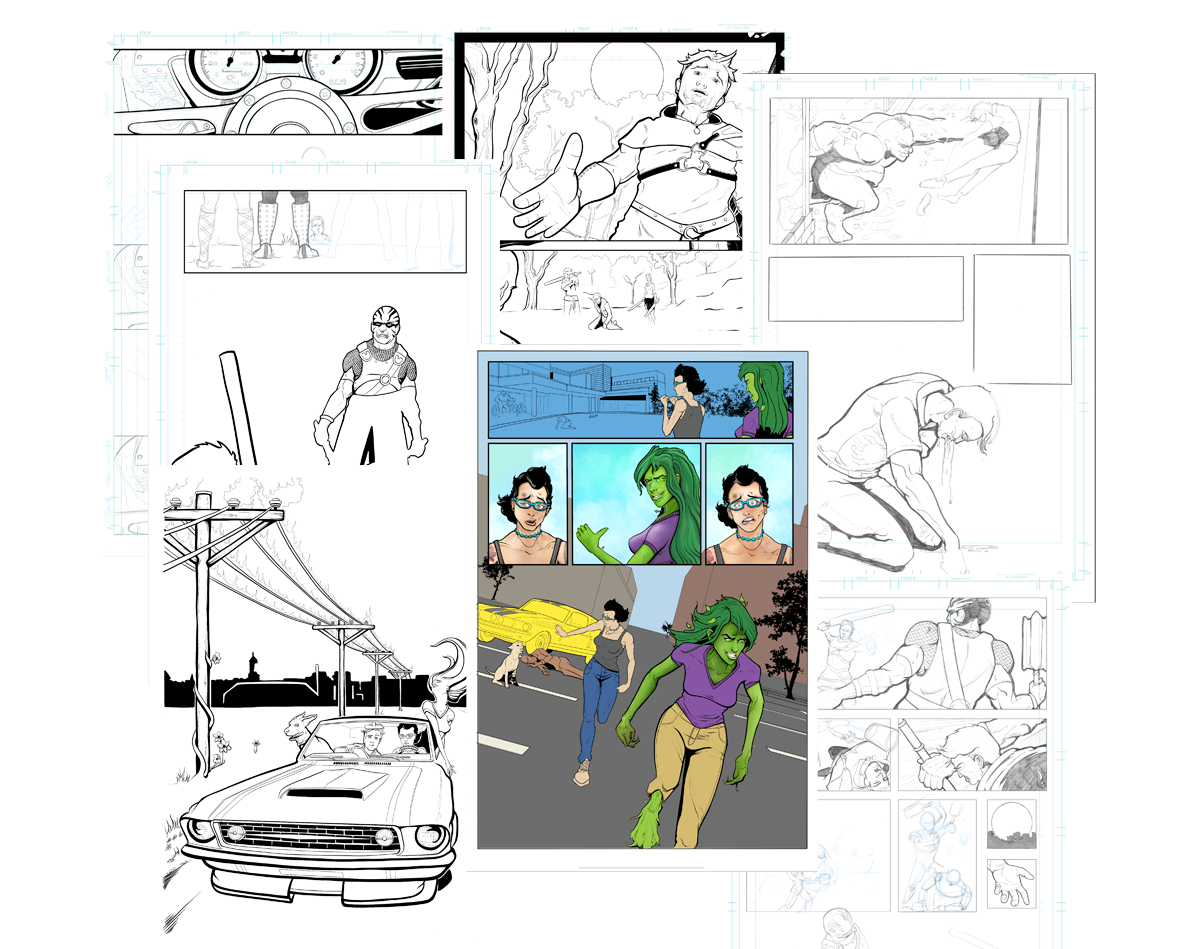 ---
Funding Forecast!
---
The pace of funding slowed due to my dearth of posting, and as many of you are aware the market value of Steem has been falling along with the greater cryptocurrency market in general. As such the value of funds raised has been sliding backwards and now sits about 3.7% of the base $5000 goal.
---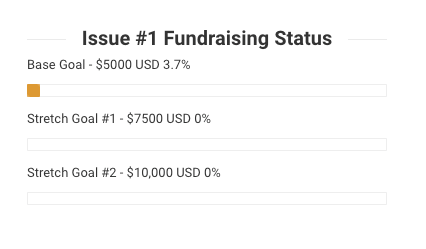 ---
I am not the least bit discouraged as the timeframe for completion of the comic and needing to withdraw funds still gives the market ample time to improve. And everyone has continued to be so generous and supportive that the token totals are climbing and thus could lead to significant financing next year.
To date "I Thought It Would Be Zombies…" has raised 506.798 STEEM and 13.576 SBD; which all total has a market value today 11/28 of about $183.
You can keep track of funding and donations on this page. I'll work on prettying up that display soon, sorting folks into their proper reward tiers, and giving some special shoutout thank yous in an upcoming update.
Promotion Progress
---
In the arena of promotion, I'm most excited about my gradual acquisition of account creation tokens. Since this feature launched in the last Steem blockchain hardfork, I've been acquiring them as much as possible with my resource credits. If all that goes over your head…. don't worry… or feel free to ask me questions in the comments!
Suffice to say, this will allow me to instantly create new Steem accounts at no cost thereby allowing "I Thought It Would Be Zombies…" to onboard new fans to the Steem network. To date I've amassed 15 tokens with plenty more time until I foresee using these in person at conventions or through the official website. I'll continue to build this little "war chest" so that I can effectively promote "I Thought It Would Be Zombies…", Steem, and Fundition all at once.
---
I hope this gave a nice little roundup of some facts and figures as I battle my way through the unforgiving apocalypse of creating a comic book. As always thanks for your interest and support. What progress I make is all due to people like you. Yes YOU. You read to the end of this article right? Yep. You're one of them supporters.
Now go do some survival prep. Can some food. Pack your "go bag". And look for possible magical artifacts to fight minotaurs with. Y'know, standard stuff…
-Bryan "the Imp" Imhoff
---