"I Thought It Would Be Zombies…" Comic Crowdfunding Update #12.5; The Year of the Apocalypse…

---
Greetings all, and a happy New Year to you in these first days of 2019. Welcome to "I Thought It Would Be Zombies…" Comic Crowdfunding Update #12.5. Why a .5 update you ask? Well, I've numbered these posts in such a way once before, when I felt there wasn't a ton of new content to justify a "full" update. Nevertheless, I really wanted to check in with everyone and get this year started off on the right path. It's been more than a month since my last Fundition update post and it's high time for another.
What is all this babble of Fundition and possible zombies you say? Oh… you didn't say that? Well, here's a canned quote I'm throwing at you as a distraction and to buy me some time to prepare.
---
"I Thought It Would Be Zombies…" is an independent comic book created and in production by yours truly, Bryan "the Imp" Imhoff. It follows a ragtag band of survivors through the aftermath of a "magical apocalypse," both humorous and horrific; beautiful and terrifying.
Fundition is the first dedicated crowdfunding platform built on the Steem blockchain. Supporters can back projects with direct contributions of cryptocurrency, or by simply "liking" the posted content! On the Steem blockchain, your votes have value, and Fundition is designed to tally this value over the course of an extended campaign.
"I Thought It Would Be Zombies…" is utilizing the Fundition platform as its source of funding, so friends and fans can earn rewards simply by upvoting update posts like this one over the course of the months to come!
---
Ah, shit. You're here already. You just skimmed that info didn't you? Oh well. I'm ready.
A Personal Note
Those who follow my regular blog ramblings may be aware that over the past month I've been dealing with an illness in the family that has put an extra drain on mental and physical energy. As such I've been noticeably less active socially, and as evidenced by the necessity of a ".5" update… less productive creatively.
I am still committed to releasing issue #1 of "I Thought It Would Be Zombies…" in 2019. That is now this year. Holy hell, I've gotta get moving.
I want to sincerely thank everyone who has shown immense support for the project, and for me personally in some trying times. You guys are all the best. I've got your back when the apocalypse arrives… I promise. Unless I curl up in the fetal position hugging a cat and waiting to die… then you're on your own, sorry.
Laying Out the Future
The past couple days I've been working on some more layouts for issue #1. I've shown examples of my layout process before, in which I utilize some rough 3D models to block out scenes and actions. Everything is later completely hand drawn, but this stage helps me plan out panels, pacing, poses, perspective, prop placement, and a plethora of other "p" words I can't think of at the moment!
This stage is actually pretty fun for me. I've always been fascinated by 3D animation and modeling, and while this is just the slightest taste of that world, it's fun to play around with and for me is just like an adult version of playing with action figures. This is the kind of forward progress I can keep putzing around with even when my energy and motivation may be low. All of this is being done in the Clip Studio Paint app on an iPad Pro.
---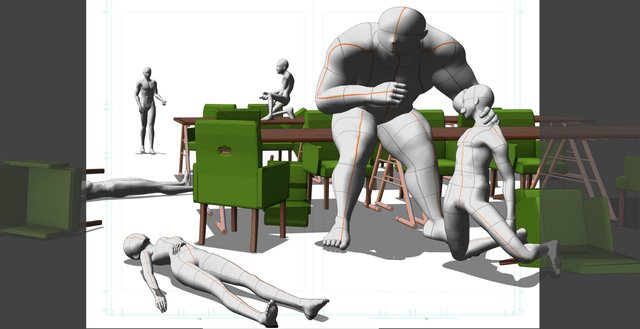 ---
These are the rough plans for a double page spread approximately midway through issue #1, wherein Dave will stumble upon a rather gruesome and unexpected scene. Expect a look at the illustration of this scene to be the centerpiece of a full update #13 post in the days to come!
Recording the Past
For some time, the official Fundition page of "I Thought It Would Be Zombies…" was not properly displaying all donations made. This was due to some earlier transactions not being properly found during some recent upgrades and improvements to the system. A big thanks goes out to @hightouch who took time out today to manually update the project and ensure that everything is up to date and in tip top shape. All funding should now be displaying properly. Please feel free to comment and let me know if you have any questions or concerns in that regard!
---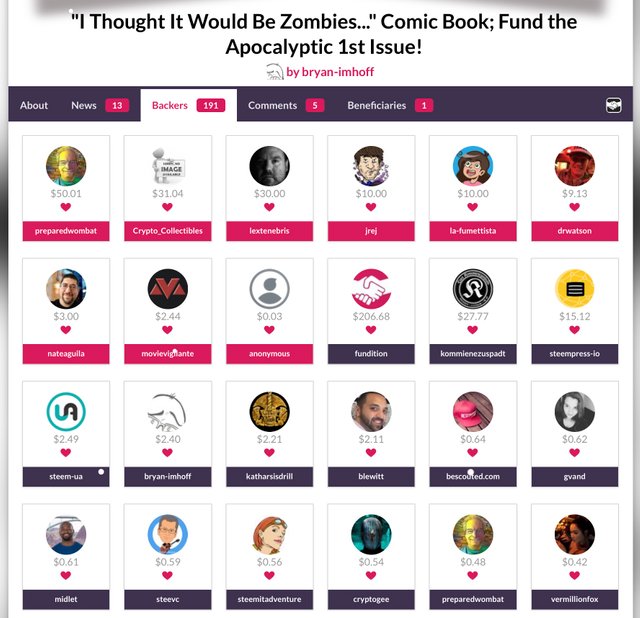 ---
Honestly, I think the site struggled to find all the donations made to "I Thought It Would Be Zombies…" because there are just so darn many of them. I have the best fans in the world already! You can always check out your own standings at this page and follow along with the progress of the project. While you're on Fundition, be sure to seek out some other great projects and charities to support simply by up voting!
The "TLDR"
So the TLDR as those crazy kids say (I actually had to Google that acronym to find out what it stood for)… I'm alive. The apocalypse is coming, and we now know exactly how well funded it is. Thank you all and see you again soon!
– Bryan "the Imp" Imhoff
---