"I Thought It Would Be Zombies…" Comic Crowdfunding Update #13; See You In The Break Room…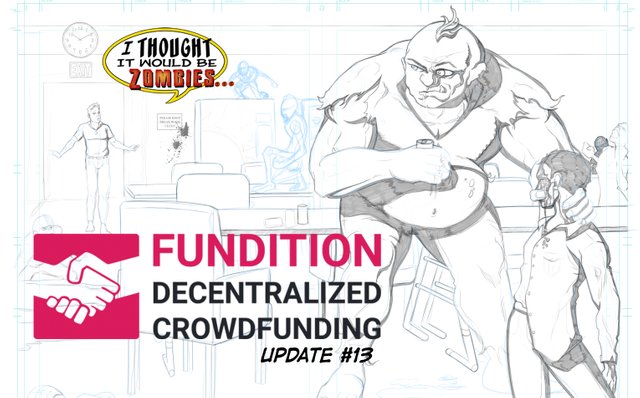 ---
Welcome to the latest Fundition project update for my independent comic book, "I Thought It Would Be Zombies…" This update is unlucky #13, (it's actually the 15th update I believe… there's been a couple of .5 updates in there… but who's counting!?!) which perhaps is fitting for our unfortunate protagonist Dave, who is stumbling into a very unlucky situation in today's preview image.
I've been spending some time in the break room lately… but before I dive into that, let's take a quick break for any first time readers and bring them up to speed on just what this Fundition and "I Thought It Would Be Zombies…" stuff is! If you're a veteran at these posts, take five, grab yourself a snack, and I'll see you soon.
---
"I Thought It Would Be Zombies…" is an independent comic book created and in production by yours truly, Bryan "the Imp" Imhoff. It follows a ragtag band of survivors through the aftermath of a "magical apocalypse," both humorous and horrific; beautiful and terrifying.
Fundition is the first dedicated crowdfunding platform built on the Steem blockchain. Supporters can back projects with direct contributions of cryptocurrency, or by simply "liking" the posted content! On the Steem blockchain, your votes have value, and Fundition is designed to tally this value over the course of an extended campaign.
"I Thought It Would Be Zombies…" is utilizing the Fundition platform as its source of funding, so friends and fans can earn rewards simply by upvoting update posts like this one over the course of the months to come!
---
Everybody back? Good. I got me some peanut butter filled pretzel nuggets. How about you? Ok… on with the update!
I haven't been on a break from working on "I Thought It Would Be Zombies…" but the big double page spread I've been slowly plugging away on does take place in a break room! Poor Dave is about to discover just what a "magical apocalypse" is all about… and he's not going to like it.
---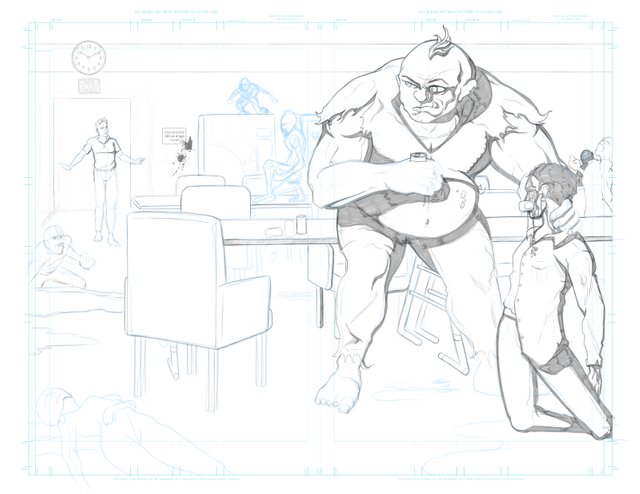 ---
---
This double page spread will really start to kick off the action in the first issue of "I Thought It Would Be Zombies…" Pencils are nearing completion and it just feels good to be moving forward in 2019.
That being said, I'm still behind schedule of where I want to be to have this issue released later this year, and I'll be doing my best to play catch up. When I first self published years ago with an issue of the comic book Seer, I actually enforced a deadline on myself by booking (and paying for) some convention spaces in advance. I'll probably do that again as it's a great motivator to know exactly when you need that printed comic in hand by… or else watch your booth investment go to waste! When the release and promotion schedule starts to fill up, you all on the Steem blockchain will be the very first to know!
Of course, to make all this a reality… funding is needed! That's where Fundition and all you amazing supporters have come into play. Funding is going wonderfully, I still believe "I Thought It Would Be Zombies…" is on pace to have a successful launch this year.
---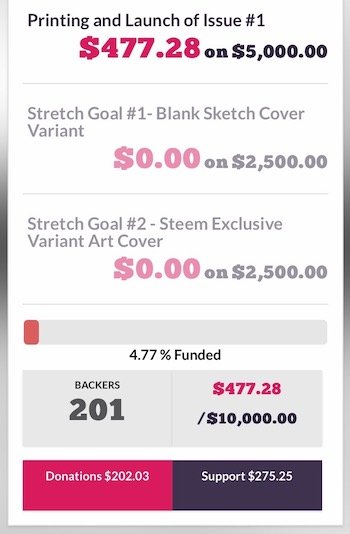 ---
Currently the project is almost 5% funded… but that percentage is including stretch goals. We're actually already about 10% of the way to the funds needed for a full and successful launch, so thank you all so much! In the last couple weeks the value of Steem tokens has been doing well, which means your upvotes will get you closer to reward tiers faster so pour them on strong and I'll try to post more frequent updates as well!
I've also recently received a generous donation from a friend who's not even on Steem yet, utilizing the PayPal donation feature of Fundition. If you weren't aware that existed, check it out, it's amazing!
On a quick housekeeping note, Fundition tracking tools for PayPaldonations are not currently very robust. When making a PayPalcontribution, please take a moment to send an e-mail to rewards@ithoughtitwouldbezombies.com with the date and amount of your donation so that I can properly track rewards tiers and have a contact e-mail to be used at the time of fulfillment. Likewise, if you're a voter/donor here on the Steem blockchain, please feel free to send an email as well to be added to the mailing list for rewards questions and fulfillment later this year.
---
In addition to comic production which is of course top priority, I'm still endeavoring to fully build out the official website at www.ithoughtitwouldbezombies.com, and am working to plan out the promotional and Steem onboarding activities I envision to go along with issue #1.
As always, I just can't thank everyone enough for their support and encouragement. Creating comics is a massive task. At times I am an unmoving boulder… and it's all of you who are pushing me up the hill towards getting "I Thought It Would Be Zombies…" finished. When I see notifications of a new donation, or comment on previews and posts, it invariably motivates me to sit down and get at least a bit more work done to fulfill the promise and expectations of the trust you're putting in me and the enthusiasm you have for the project.
So thanks again, and I'll see you soon with more behind the scenes content and news of I Thought It Would Be Zombies…!"
-Bryan "the Imp" Imhoff