"I Thought It Would Be Zombies…" Comic Crowdfunding Update #14; Writing For Myself…
Another week, and another Fundition update for "I Thought It Would Be Zombies…!" I'll be working hard to move to a strict weekly update schedule (the time between posts has lagged a bit recently) and possibly accelerate to more frequent updates as the release of the first issue draws nearer. I'll also aim to center each post on a more focused topic rather than some of the "catch all" posts I've done in the past.
This time around I'll be taking a few moments to give some insight into the writing "process"… if you can call it that (it's rather loose). But one thing I do have a defined process for is kicking off these updates with a bit of stock text to bring new readers up to speed and refresh everyone as to just what the heck it is I'm doing here!
"I Thought It Would Be Zombies…" is an independent comic book created and in production by yours truly, Bryan "the Imp" Imhoff. It follows a ragtag band of survivors through the aftermath of a "magical apocalypse," both humorous and horrific; beautiful and terrifying.
Fundition is the first dedicated crowdfunding platform built on the Steem blockchain. Supporters can back projects with direct contributions of cryptocurrency, or by simply "liking" the posted content! On the Steem blockchain, your votes have value, and Fundition is designed to tally this value over the course of an extended campaign.
"I Thought It Would Be Zombies…" is utilizing the Fundition platform as its source of funding, so friends and fans can earn rewards simply by upvoting update posts like this one over the course of the months to come!
---
Ahh, structure. Feels good. Now time for me to dive back into some freeform thought… see if you can follow along!
---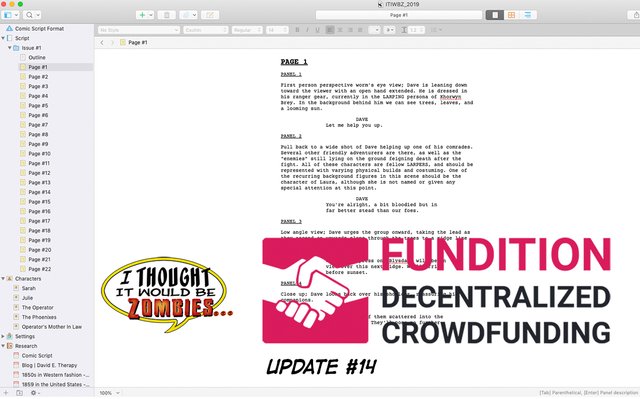 ---
Scrivening…
Over the past week I spent some time gathering my disparate bits of writing and research and moving them all into the writing software Scrivener. I wish I could say those bits and pieces were all organized now as well… but that process is ongoing. It's still a sight better than the scattered post-it notes, word processing files, and saved pdfs it had been before.
For a while now I've been bouncing back and forth between two software packages, Scrivener and Storyist, trying to find the right tool for my writing, and in the end Scrivener won out.
I've been through much the same thing for months as Clip Studio and Procreate battled it out for the lead role in creating the art of "I Thought It Would Be Zombies…"
In both cases, the program that was "clunkier" won out. Scrivener and Clip Studio are my writing/art combo of choice. Storyist and Procreate have better interfaces and more intuitive usability, but in the end are each lacking features that I wanted to use or overall didn't quite fit my way of thinking and working. Who knows, maybe I'm just a clunky kinda guy.
If you hadn't noticed, I'm pretty much winging this whole comic book creation process as I go along, which may slow productivity a bit… but probably makes it a lot more exciting for all of us… me to make and you to watch! It's not my first time making a comic book, but enough years have elapsed that even if the art form itself hasn't changed; the tools for making it, distribution, promotion, and marketplace are all vastly different.
Speaking of Winging It…
So how the hell am I just getting my writing "thoughts" organized if I'm well into art production of "I Thought It Would Be Zombies…" #1? For one, much of the organization and writing currently revolves around the larger story. As immense a task as getting #1 finished is, let's not forget it's just #1. Then I want to move on to #2… #3… #4… … you get the point. Secondly, being a sole creator I obviously have a lot more flexibility in working with myself!
If you want to see some incredibly thought out tightly scripted work… this isn't the spot for you! But I would highly recommend you check out the blog of @drwatson who has posted more than 200(!) entries detailing the process of his writing and creating his own independent comic book Ithaqa.
In my own defense, there is good precedent for "winging it!" If you're not familiar with the making and history of comic books, you may have never heard the term "Marvel Style plot."
In the world of comics there are generally two distinct methods of writing, the first being "full script." Just as it sounds, this method involves writing a full script, much like a movie screenplay, before the art is begun. The artist then follows these instructions to create the finished artwork.
An alternative to the full script method is often referred to as "Marvel Style" as Marvel Comics (and more specifically Stan Lee) pioneered and popularized it. In this arrangement, the writer supplies only a plot summary for the artist, who then has great leeway to control the pacing and staging of the artwork throughout the comic book issue. The writer then receives the artwork and only then adds dialog that fits and enhances what the artist has provided.
For myself, since I'm a writer/artist combo… I'll rarely start the art process with a "tight" script. For issue #1 of "I Thought It Would Be Zombies…" I dove into the artwork with an outline of scenes and approximately what plot points and story beats need to happen on each page. Additional dialog and story details often come to me during the art process. A single page can take literally dozens of hours to complete with all the stages (pencils, inks, and colors) and I find it beneficial to effectively multitask by writing as I draw, as opposed to forcing myself to sit down and hammer everything out in stone prior.
As the issue is now shaping up, I can move back to the writing process for a time, looking at my artwork produced to date, thumbnails, and notes, and then begin to tighten up the script ensuring that the story is flowing well and perhaps adding in foreshadowing, running gags, or minor details that may not have been apparent before. Whole page sequences and scenes can even be reordered at this point. Although comics and films are two very different art forms, it can help to think of the artwork as raw footage. A movie really comes together in the editing room… and there's plenty of opportunity to edit, cut, and splice a comic in a myriad of ways before it heads off to the printer.
Although I have a ton more artwork to do, this evaluation stage is where I'm currently at in the writing of "I Thought It Would Be Zombies…" #1.
Writing for Myself… In More Ways Than One
The title of this post has a bit of a double meaning. The first is of course what I described above, the technical aspect of being a sole creator. The second aspect and interpretation is to give a little insight into just what I'm thinking about as I write "I Thought It Would Be Zombies…"
In the end, I'm writing "I Thought It Would Be Zombies…" for myself. I'm including elements that I think are fun, funny, exciting, and moving. If no one else "gets it," oh well. But I think some people will enjoy it, and when they do I'll know they're a kindred spirit!
I was reminded of this a few days ago as I read an issue of the comic book, Stellar. Stellar is a recent comic with art by a personal favorite and inspiration of mine, Bret Blevins. Issues of the comic have contained essays by and interviews with the creators, and in the back of issue #6 Bret had this story to relate.
---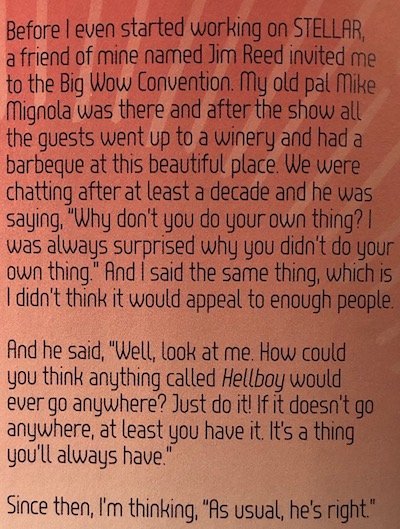 from Stellar #6, published by SkyBound Entertainment/Image Comics
---
That's how I feel about "I Thought It Would Be Zombies…" and I'm so grateful for all of you supporters who are helping me to bring this apocalyptic vision into the world! No matter what, it'll be a "thing I'll always have."
Incidentally, you may recognize Bret Blevins' name if you've perused the stretch goals for the "I Thought It Would Be Zombies…" Funditioncampaign. He's my first choice to approach for a "Steem exclusive" variant cover of issue #1 should funding be sufficient. So keep those votes and re-steems coming! I know you will, you haven't let me down yet!
That's all for today. Future updates will delve into some of the nitty gritty details currently going on as well, such as finding a printer, planning for conventions, and running the business of a comic book publisher! And of course, more art previews! So I'll see you soon. In the meantime, create something just for yourself. You'll enjoy it. Trust me.
-Bryan "the Imp" Imhoff