"I Thought It Would Be Zombies…" Comic Crowdfunding Update #15; Baltimore Bound!
Welcome to Update #15 of the "I Thought It Would Be Zombies…"Fundition campaign! This update marks the six month anniversary of the campaign's launch. Ok, it's a couple days late as the campaign originally started on August 14th, 2018. (Geez… has it been that long?)But… as everything I do is always at least a couple days late… we'll just say it's perfect timing for a celebration!
So what exactly are we celebrating? Let me queue up my "go to" summary text… cut, and…
"I Thought It Would Be Zombies…" is an independent comic book created and in production by yours truly, Bryan "the Imp" Imhoff. It follows a ragtag band of survivors through the aftermath of a "magical apocalypse," both humorous and horrific; beautiful and terrifying.
Fundition is the first dedicated crowdfunding platform built on the Steem blockchain. Supporters can back projects with direct contributions of cryptocurrency, or by simply "liking" the posted content! On the Steem blockchain, your votes have value, and Fundition is designed to tally this value over the course of an extended campaign.
"I Thought It Would Be Zombies…" is utilizing the Fundition platform as its source of funding, so friends and fans can earn rewards simply by upvoting update posts like this one over the course of the months to come!
…pasted! Hope that cleared up any questions for those new to the worlds of Fundition and "I Thought It Would Be Zombies…"!
So, to celebrate this epic six month anniversary,
I booked table space at the Baltimore Comic Convention!
---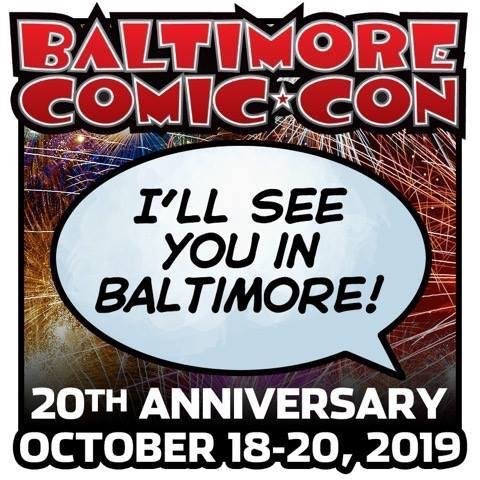 ---
The Baltimore Comic Convention is taking place October 18-20th and is celebrating a big anniversary of its own this year as the con reaches its 20th year! It's an amazing show that's locally owned and operated and keeps a great focus on comics while still making room for all walks of fandom and pop culture.
I've personally attended the Baltimore Comic Convention several times as a fan, and once before as an exhibitor. That was 15 years ago during the run up to the release of my first creator owned comic book, Seer. The show has grown by leaps and bounds over the years and will be a whole different experience this time around!
Booking table space at Baltimore has created a solid deadline for me, without which I might dabble and nitpick at the first issue of "I Thought It Would Be Zombies…" for ages, without ever getting it done! The timing is perfect as it is 8 months away, which will leave me about 6 months to finish everything I need to do on issue #1 and get it out the door to the printer. That may sound like a lot of time… but for me it's not, it is rapidly passing by. It'll be a big push to get this all done, but I'm up for it!
I'll share further information, announcements, and details as the show draws nearer and plans become more solid. But if you're within a reasonable distance of Baltimore, mark your calendar, because I'd love to see you there!
Campaign Updates and Transparency
---
I've said it before and I'll say it a million more times. Thank you to everyone who is helping support this project with your votes, direct donations, and words of encouragement!
In the past six months "I Thought It Would Be Zombies…" has raised 840.9 Steem and 13.576 SBD through a combination of votes and direct donations. At current market values this is about $275 USD. I'm of course hoping that Steem values increase over the next 6 months to really help give this comic an amazing start!
---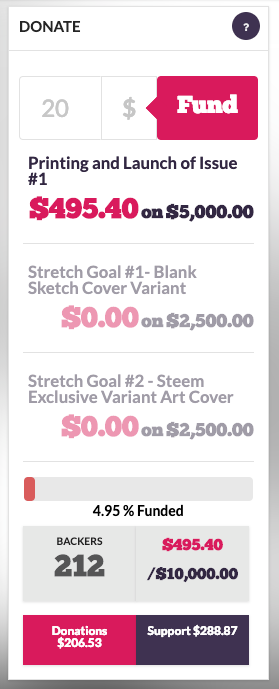 ---
As far as Fundition calculations are concerned, you are credited with the value of your donation at the time you make it, be that direct contributions or votes. That explains the discrepancy between the $275 current market value and the official total shown on the Fundition project page, as Steemvalues have fallen since the beginning of the campaign. I am committed to honor backer rewards in the same manner, and don't fret if you fall a few pennies under a certain tier due to a bit lost in conversion or to PayPalfees, I'm going to take care of you for your support.
I'm also committed to getting "I Thought It Would Be Zombies…" #1published no matter what. Even if the campaign falls short of its initial $5000 USD goal, there will still be opportunities to publish albeit with a scaled down & more expensive print run. But… it will be done! So please donate and vote with confidence. If you have donated directly or achieved a rewards tier through your voting, please take a minute to send a quick email about that fact to rewards@ithoughtitwouldbezombies.com. I'll use this contact email only to reach out with questions and to gather information for rewards fulfillment when the time arrives this fall!
"I Thought It Would Be Zombies…" Fundition Campaign spending to date has now been $250 USD, to book a 6 foot table in artist alley at the 2019 Baltimore Comic Convention. I'll continue to keep you updated on all official spending so you know just what you're helping to make happen! I'm also eager to promote Steem and Fundition through the release of this comic, so I hope you find that to be a worthy cause as well.
Thanks for checking in on this update! I'm beyond excited to have a launch date and location set, and a visible goal to work toward. As always I'd love to hear any questions or comments you may have.
-Bryan "the Imp" Imhoff