"I Thought It Would Be Zombies…" Comic Crowdfunding Update #16; Down to Business.
So… I'd planned on increasing my "update post output" to twice a week… and now it's been two weeks since my last update. I think I kinda reversed those ratios! If you hadn't noticed, I call my fledgling publishing studio "Spotty Production." That's for a reason folks! You can take it or leave it, but you can't say I'm not transparent!
In all seriousness though, I'd hate for anyone to think this project is dying. "I Thought It Would Be Zombies…" might be a comic about the end of the world, but I'd like to think it has a very bright future ahead of it in contrast! I am getting increasingly nail bitingly nervous about my production and deadlines, but that was the whole point of setting a goal date for myself anyway, because procrastination and pressure are the only ways I get work done! If you missed the news, "I Thought It Would Be Zombies…" is scheduled to debut at the Baltimore Comic Con, from October 18-20th, creating that dreaded deadline of which I speak.
I haven't shown many art previews recently because I haven't had that much impressive new stuff to show! What work time I've gotten in recently has been primarily focused on nailing down the last of the writing and plotting for issue #1, allowing me to set a final page count, and then planning the panel layouts and page designs for the comic. I've shown quite a few samples of my 3D model layouts recently and just didn't want to bombard you with more of the same.
---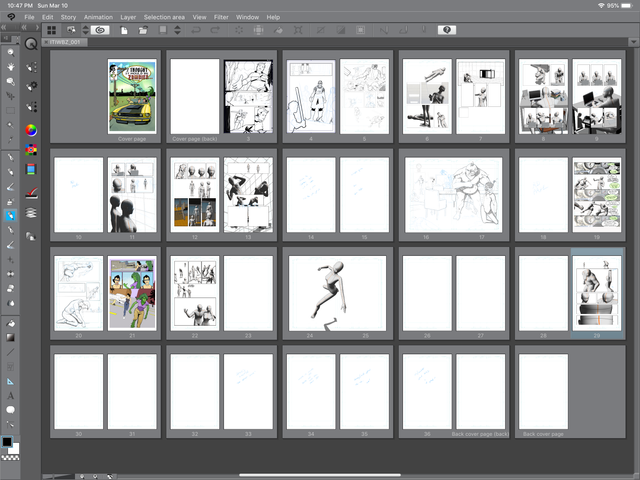 ---
The layouts and planning are actually much more mentally engaging and taxing than the drawing itself, and I'm feeling more than ready to switch gears for a little while. So rest assured over the next week or two you'll be seeing some actual drawing as I dive into some of these planned pages and begin to build them out!
So, if I don't have any artwork to show you today, just what am I going to do!?! The remainder of this post is going to focus on the "business side" of this little endeavor and share some of the other items and behind the scenes stuff going on with "I Thought It Would Be Zombies…" These items are what I consider the "adulting" of my comic book creating. Taking care of these facets is actually interesting to me (I enjoy watching entrepreneurial "reality" TV like Shark Tank and The Profit!) and makes me feel like I'm not just some kid drawing comics for fun while watching cartoons and eating cereal. Even though that is totally what I am actuallydoing. Yep. That's a look at my life right there. Cartoons, cereal, and comics. Whether it's pathetic or glorious is in the eye of the beholder!
---
First up, with my story planning and page pacing near complete I've finalized the page count for issue #1 and set about updating my progress spreadsheet and taking stock of where I'm at. Incidentally, I got turned on to this spreadsheet template by @jrej who uses it for his own comic project Shades of Men which is currently running a Fundition campaign as well, so check it out!
---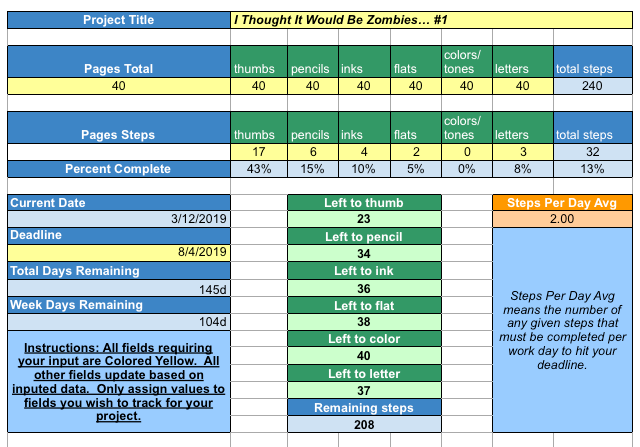 ---
Yeeesh. I'm 13% done, time to get cracking! Some of these tasks will fly by comparatively, such as flats and letters; while things like colors and pencils will be more time intensive. You may notice the target completion date is a couple months in advance of the Baltimore debut. That's important to allow plenty of time for printing and delivery of the physical copies. Speaking of which…
---
The next task off my checklist was ordering a deluxe sample pack from Print Ninja to start educating myself further on printing choices and costs. The pack costs $25 which is then able to be applied to your first order if you choose to print through them. I'm not decided yet and will seek out a few quotes and alternatives, but Print Ninja is an early front runner for me. I'll share the pack with you all when it arrives just in case you want to "nerd out" on paper stocks with me!
---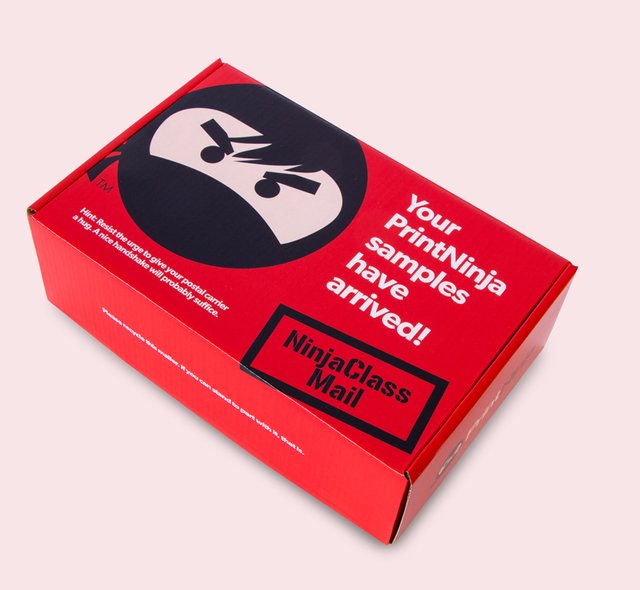 ---
I've also been tackling a little more of my "infrastructure," by setting up a separate bank account to help keep all this "businessy" stuff separate and more transparent. Already preparing for live shows such as Baltimore I went ahead and ordered a couple simple Square card readers so I can take in that sweet sweet credit card money using my phone! The last time I exhibited at a comic convention, smartphones didn't even exist, much less smartphone card readers. It's a whole new world I'm stepping into and I'm diggin' it! These readers cost $10 direct through Square and they also supplied the first one free for me. 2 for $10, I'll take that!
---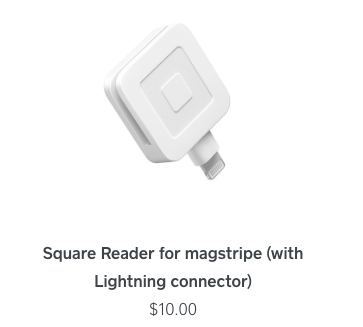 ---
I made sure to get a backup on the advice of @blewitt. We had a great chat the other night and it's been invaluable as a comic creator and business novice to be able to pick the brain of a seasoned business owner, comic book retailer, veteran con exhibitor, and all around fun guy. So thanks @blewitt! Everyone, follow this guys account if you haven't already!
---
And just where am I getting the money for all these extravagant $25 and $10 splurges you ask!?! From the votes and donations of all you fine folks of course, as well as the Fundition Fund which has been extremely generous and enthusiastic! To date the campaign is tracking at just over $500 raised which has been an immense help.
---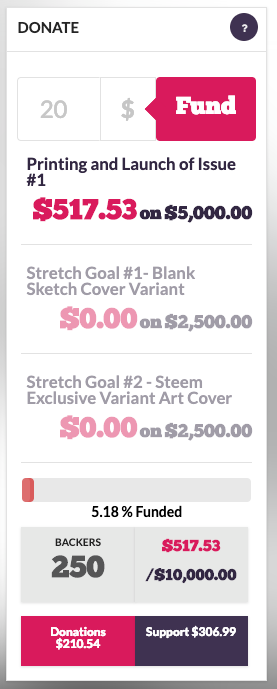 ---
In the interest of transparency, trustworthiness, and education, I'll be sure to keep sharing accrued expenses. To date "I Thought It Would Be Zombies…" Fundition Campaign spending looks like this.
---
| Item | Cost | – |
| --- | --- | --- |
| Baltimore Comic Con Artist Alley Table | $250 | – |
| Print Ninja Deluxe Sample Pack | $25 | – |
| Square Card Readers | $10 | – |
| – | – | – |
| Total | $285 | – |
---
So there's already some great stuff accomplished and we're building more ammunition for the final print run, convention displays, and more! Thanks goes out to everyone who takes time to read these updates and are helping to build "I Thought It Would Be Zombies…" one upvote and Steem token at a time!
Thanks for taking a look at some of the more mundane goings on surrounding my crafting of the apocalypse… I'll try and make some upcoming updates extra "mayhemy" to make up for it! (That'll probably involve Julie… she knows how to bring the mayhem…)
Questions, comments, suggestions? Leave a comment! In between some drawing, cereal, and cartoons, I do my best to reply! Take care and see you soon for Update #17!
– Bryan "the Imp" Imhoff
---
This is an official Fundition campaign update post to help fund the publication of the independent comic "I Thought It Would Be Zombies…"meaning your votes alone can help you earn rewards like a free copy of the comic and more! For more information check out https://fundition.io/and the prior update articles for "I Thought It Would Be Zombies…"!
---